Do You Love Me?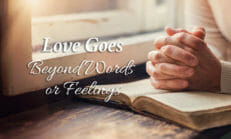 Podcast: Play in new window | Download (Duration: 31:06 — 8.9MB)
Subscribe: iTunes | Android | RSS
John 21:15-19
People ask if they are loved out of insecurity when they have doubts. Jesus asked Peter for very different reasons. Jesus wanted Peter to reaffirm his commitment to Jesus.
John 13:36-38
Peter declared his unfailing love and devotion for Jesus but then went on denying Him three times. He said one thing and did another
John 14:15, 21, 23
Jesus indicated what love for him truly looks like.
Lack of obedience equals lack of love for Jesus.
Jesus expects 'agape' love which requires sacrifices, willing to obey whether we feel like or not.
Peter felt too guilty to declare an agape life for Jesus because of all his past transgressions.
Obedience is the make of true discipleship.
If we love Jesus it must go beyond words or feelings.
It's not always easy to obey. Obedience not in the times when it's convenient, easy or in favorable circumstances.
Obedience unlocks the doors to spiritual blessings in our lives.
John 21:20
It's so easy to take our eyes off Jesus. There's so many distractions. Jesus wants us to understand that our love and obedience to Him should have nothing to do with other people. It's all about me and Jesus. When we look at other people we can always rationalize our lack of commitment to Jesus.
Every single day we need to reaffirms our commitment to Jesus by thinking what He would have done in our place.